January-March, 2018
"True Forgiveness" Book Review

As I move down my path with ACIM and the Holy Spirit, I continue to be grateful for all of the beautiful direction I receive. This month (November, 2017) I celebrated one year of living in Ormond Beach and being in service to Pathways of Light with Mary and Robert. I am also blessed to be taking the ministerial training with Pathways' courses. A few weeks ago I was working with Course 203, An Introduction To A Course In Miracles, that included a recording of a Gary Renard workshop. Much of the information Gary shared was about forgiveness and as I pondered it over the next day or so, I asked Holy Spirit for help with true forgiveness. I had a basic understanding of how The Course defines true forgiveness — to overlook what never happened and release all illusions — but I wanted to really understand it and again asked for Holy Spirit's help.
---
January-March, 2018
Pause for Correction, Drop the Rejection
I never truly recognized the unique power of gratitude until I found myself home alone sick on Thanksgiving. I thought I would lounge around, watch some television, but my Helpful Self had other plans… so what's new? As I paused to contemplate my upset about the situation at hand, I became sure that it was no accident that I was sick and home alone for the holiday. Furthermore, I know from using the Pause Practice in everyday life, that this is just the kind of situation in which there is a hidden treasure awaiting my willingness to be gifted.
---
January-March, 2018
Finding the Help We Need
Do you ever have one of those days when you do not want to go to WORK? Well, this past Monday was one of those days! Oh my I'd rather go to the dentist. Then, I paused. Wait a minute Mary. Something is wrong with this picture. The more I listened to my "self-talk" — that me-character who is always trying to drag us down, you know the one — the more I heard my self seeing everything as work and calling everything "WORK"!
As I paused, I saw how I was labeling all kinds of things as "work." Getting out of bed is work, exercising is work, making breakfast is work, doing laundry is work, paperwork is work, on and on… life is work.
Hmm. I don't like where this line of thinking is headed and in fact has already gone! So, I paused, again. As I went through the PRACTICE OF THE 4 DECISIONS to receive another way of seeing what I was calling "work," I heard within, "Drop the word 'work' from your vocabulary"!
---
October-December, 2017
Miracles News, October-December 2017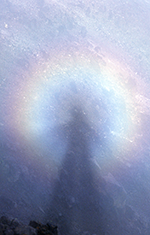 Our Inner Vision
sees past shadows
of form to our True
Reality as Love.
---
October-December, 2017
Your Peace Is with Me, Father

Now that I have been studying the Course for a number of years I have a certain perspective. I can look back and see how I have changed, though, like most words we use, change is not really accurate. I have not changed, being a changeless creation of God. A better way to say it would be I can look back and see myself as I appeared while deeply engaged in the ego, and compare that to myself as I am slowly revealed. It looks like layers of the mask are falling away as I allow the ego thoughts to be corrected by the Holy Spirit, and so it looks like I have changed.
---
October-December, 2017
Trust and Transfer of Training

I have heard it said that if we could totally understand and apply any one of the concepts in the lessons of the workbook for students, it would be enough to take us home. Then the obvious question becomes, "Why are there 365 lessons, a Text, a Manuel for Teachers and pamphlets?"
Over the last year or so, I have felt so much more peaceful and happy for "no apparent reason." With all that was going on in the world during that time, I would think that I would have to work extra hard just to keep my spiritual and emotional balance.
---
October-December, 2017
Thanksgiving Declaration

I Am the Change
which I've been looking for.
I Am the Healing
which I've been asking for.
I Am the Abundance
which I've prayed for.
---
October-December, 2017
My Ego, Reflected in Mr. Trump

I attended an event by Gary and Cindy Lora-Renard recently, which was a wonderful experience. The topic of politics was briefly touched upon during their discussion, and I thought to myself how grateful I am to not be pulled into the frustration and fear that so many people experience when it comes to politics. Although it can trip my ego trigger from time to time, the daily news has not been a primary source of suffering for me, or so I thought.
---
October-December, 2017
Letting Go of the Outcome

It has been more than two years now since an independent filmmaker first approached me. He asked if he could make the book I authored, Forgiving Kevin, into a motion picture. It is my memoir about my years as the father of a heroin addict.
I had mixed feelings about how I should respond to the movie proposal. Years of study in A Course in Miracles have taught me to take such an important decision to the Holy Spirit for clarification.
---
October-December, 2017
Healing Pain

This article is about chronic pain and how I have been dealing with it for many years. I was told there was nothing wrong with me for such a long time but I finally received a diagnosis in the 90's! Yes! I knew it! There is something wrong with me. I am not a hypochondriac. It's called Fibromyalgia! Victory dance! Now, what do I do for it?
---
October-December, 2017
The Wisdom Within You

Every one of us has Wisdom within us. Even before we found A Course in Miracles (or rather it found us) or consciously stepped onto a spiritual path (or don't feel spiritual at all). Even when we were going through what seemed like the worst of the worst, It was there, that still small Voice of Truth, our Inner Guide.
There is an eternal love that is us that shines through and guides us when given the chance. When we are willing or even when we've had quite enough of the nonsense and have no choice but to surrender it all, the reassuring, loving and helpful guidance comes through in the form of words, images, or feelings.
---
October-December, 2017
Trust

Sometimes I doubt myself. I can think of a million and one reasons not to trust myself, but I'm beginning to see this is a very destructive habit. I'm working, once again, on trust and trust always boils down to trusting myself.
I tell myself I don't trust you. I tell myself people cannot be trusted and world affairs would prove this to me. But what is trust? If I already know I can't trust anything outside myself, then what is trust? If I'm constantly trying to control or influence situations outside of myself, am I trusting?
---
October-December, 2017
Reminding Myself Who I Am

When I opened to A Course in Miracles Workbook Lesson 56 for today I was so grateful that what I read was really what I needed to hear, "My attack thoughts are attacking my invulnerability."
I had been feeling a little down because of some family misperceptions. I say misperceptions because I know from the Course that whenever I am unhappy about something I know it isn't real, it is my perceptions from an unhealed mind.
---
October-December, 2017
Awakening Through My Special Relationships — The Happy Dream

There are no words to describe the abundance of limitless peace, love and joy I am experiencing for having accepted the Atonement — the correction of my thoughts by Holy Spirit, but as a teacher of God I shall try.
The Atonement has been and continues to be the prayer and desire of my heart, my only goal, my only focus in this dream, which is truly a happy one now! I have no pain or conflict in my mind whatsoever; only peace, light, love and joy. True cause and effect as taught in ACIM.
---
October-December, 2017
Egoland

Once in a while I hear a fellow Course student say something like, "This is all a dream, so it doesn't really matter." For whatever reason, that thinking doesn't work for me. If I think I'm a body and I'm experiencing a problem, I can't just dismiss it with a statement like that. It does matter because healing takes place on an ego level. I must bring my illusion to Truth. I can't just cast off my illusion as unreal and be done with it.
---
Has this page been helpful to you?
Your contribution in support of this site is greatly appreciated. To make a tax deductible contribution or become a supporting member online, click here.
Or send a check or money order to Pathways of Light, 6 Oak Court, Ormond Beach, FL 32174-2623 (USD only, please) Thank you for your support.
Back to main page of Miracles News.