April-June, 2018
Miracles News, April-June, 2018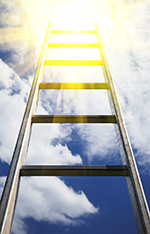 Forgiveness takes
us up the ladder
to our Home in
the Light
---
April-June, 2018
We Can All Channel

A couple of years ago I asked Robert Holden if he had a daily spiritual practice. He said, "Yes, l ask the 'Holy Spirit what would you have me know?' and then I write whatever comes up. It could be one word, a few words, or more."
So I started doing this practice the next day, and was totally surprised that words not of me poured out of my pen. And, they were exactly what I needed for the day. I've made it a daily spiritual practice ever since.
It's so simple. I just quiet my mind for a few minutes, and then I ask, "Holy Spirit, what would you have me know today?" and I write down whatever comes up. I have no idea what will appear. I just write and what comes out of my pen is exactly what I need.
---
April-June, 2018
Accepting Opportunities for Healing

I was introduced to the Course through some cassette recordings by Marianne Williamson, given to me by another recovering friend in a 12 step program. The topics of the recordings were quite common but the messages were not. I was quite taken by the decidedly spiritual nature of the solutions she offered. I later read her book "A Return to Love" and began my study of ACIM.
There is a line in the "Big Book" of AA by one of its authors that states, addiction is a spiritual malady. That statement really resonated with me and I knew it was true. At least for me.
Like many students, my study and practice of the principals of A Course in Miracles has changed my life, in what can only be described as miraculous ways. Let me begin with this quote from A Course in Miracles:
---
April-June, 2018
Faith

Faith is never lacking.
Every moment of every day
We either put our faith
in the fears that consume us
or the Joy that is ever-present
but often buried
from our awareness..
---
April-June, 2018
Making No Exceptions

We are taught that Love never compares. Comparisons are a tool of the ego thought system. Nevertheless, making comparisons seems like a natural process in the world.
Rev. Myron Jones and I have been presenters at the last four ACIM conferences sponsored by the Community Miracles Center. The two of us have represented Pathways of Light and are among about thirty Course teachers that represent other ACIM-related organizations.
---
April-June, 2018
Tumbleweeds

The tumbleweed blows around in the desert after it dies. It dries up and forms a big ball that rolls around on the barren dust at the winds command. It goes wherever the wind takes it, and as it tumbles around it drops little seeds in its path. Aimlessly it tumbles to and fro without any direction of its own.
How I can relate to that feeling as a tumbleweed? Growing up I often felt dry, un-nurtured, and without direction. The wind reminds me of how I felt that I had no direction of my own. I would often give my power away trying to please others. I didn't trust myself and I definitely didn't know how to love myself or care for myself. I knew how to give but I didn't know how to receive.
---
April-June, 2018
Pause to Move from Anger to Being Present
"What is a common cause of anger?" and "How can The Pause Practice help?"
I experience that I am more susceptible to becoming angry when I am not present. That is, I am distracted, not focused on something worthy of my attention, following thoughts that are leading me down a negative path, making assumptions about what someone is thinking, jumping to conclusions about a situation, being easily offended etc. When I am distracted, me-character thinking leads me astray and vulnerable to irritation and anger.
---
April-June, 2018
Two Step Accessing Inner Wisdom Formula

A little over a year ago, on February 9th, 2017, I met my now wife — Rev. Maria Felipe (also a Pathways Minister), ACIM teacher & Author of "Live Your Happy." (http://www.mariafelipe.org)
I had never heard of her before, even though I was studying A Course in Miracles (ACIM) two years before that.
I couldn't really nail down what it was, but for some reason I felt so attracted to her, even shy. I met her on an ACIM retreat and I remember I didn't even say, "Hi." to her because I felt so intimidated by her presence.
1 YEAR LATER:
I am married.
I am expecting my first child.
I am on my path to becoming a Pathways Minister.
Wow!
---
April-June, 2018
Hello My Friend

The message on my voicemail said, "Cindy, this is Lorraine Merritt … I don't know if you're aware that Linda Wisniewski made her transition a short time ago…" I was stunned. Linda Wisniewski, my Pathways of Light ministerial facilitator, the person I talked to on the phone every week for the past nine months, is gone from this physical world. I broke down and cried.
I felt a deep connection with Linda from our very first phone meeting. We never physically met; yet it seemed I knew her my entire life. With each phone conversation our friendship flourished. Through the ministerial lessons and with Linda's guidance and encouragement, I shared with her my deepest fears and worries; my greatest joys and aspirations. I joked with Linda that she knew more about me than my husband of twenty plus years.
---
April-June, 2018
I Am Under No Laws but God's

I was guided to work with three lessons after experiencing the appearance of a bronchial infection and having a flare up of arthritic symptoms along with a skin condition of psoriasis. The lessons I was guided to were: Workbook Lesson 76: I am Under No Laws but God's, Lesson 91: Miracles are Seen in the Light and Lesson 92: Miracles Are Seen in Light and Light and Strength are One.
First it was interesting to note the sequence of what took place before I experienced the chest cold and what has taken place since and how it has served as an opportunity for healing my mind and strengthening my connection with my God Source.
---
April-June, 2018
Littleness versus Magnitude

"Holy child of God, when will you learn that only holiness can content you and give you peace? Remember that you learn not for yourself alone, no more than I did. It is because I learned for you that you can learn of me. I would but teach you what is yours, so that together we can replace the shabby littleness that binds the host of God to guilt and weakness with the glad awareness of the glory that is in him. My birth in you is your awakening to grandeur. Welcome me not into a manger, but into the altar to holiness, where holiness abides in perfect peace. My Kingdom is not of this world because it is in you. And you are of your Father. Let us join in honoring you, who must remain forever beyond littleness." (T-15.III.9)
---
April-June, 2018
Why Do Affirmations?

Okay, I can hear you saying: "Why should I do mirror affirmations? It really seems silly. And say them out loud? Even more preposterous! Anyway, aren't affirmations pretty 'Sixties'? No one does that anymore! I am a modern person. I don't need those affirmations and affirmations that go with the ACIM lessons are really a step too far. I will just read the lessons and, Barbara, even if I have your book, I will just read the affirmations when I read my daily lesson."
---
April-June, 2018
We Don't Need Love

I was preparing for my trip to see the folks in Florida. Joyful! Joyful! I spent the day before I left with my beautiful granddaughter. We often draw, paint, or make things together and as we do, we talk. She shares about her friends or school and I share some of the lessons/gifts I have learned on my spiritual journey.
I had the idea of making valentine cards for each other. It started with hearts and border designs in pinks and purples. She likes to draw cats and dogs. She drew us standing next to each other with big smiles and birdies flying around us. Singing, of course.
---
April-June, 2018
Why Me God?
I ask myself this all the time. Why me? What is so holy about me that He has given me what so many others lack? What have I done of any real good that entitles me to miracles? His miracles.
I've known, from the moment I first opened A Course in Miracles that the words were already resonating within me even as I read the first principle of miracles, "There is no order of difficulty in miracles."
---
April-June, 2018
Blessed by a Turkey

I was on my way to a Continuing Education Class — the kind where you have to clock in all the hours or you will not receive credit for the course.
Class started early, so I was driving in the weekly morning traffic. All of a sudden the cars in front of me starting veering off the lane. As I approached, I saw there was a large turkey that had been hit by a car, but had not been killed — he was severely injured and his legs were kicking and flailing.
---
Has this page been helpful to you?
Your contribution in support of this site is greatly appreciated. To make a tax deductible contribution or become a supporting member online, click here.
Or send a check or money order to Pathways of Light, 6 Oak Court, Ormond Beach, FL 32174-2623 (USD only, please) Thank you for your support.
Back to main page of Miracles News.